---
U.A. Walker, New York, 1978
Hand signed photogravure
paper size: 17 x 21 inches
image size: 11 3/4 x 14 3/4 inches
Edition: 1,000
Printed on acid-free BFA Paper
Hand signed in pencil by Hiroshi Sugimoto lower right recto
In publisher's custom-made, piano-hinged, brushed aluminum case
Specific numbered impression of 1,000 printed on white card, inside the aluminum slipcase
Published by Sonnabend Sundell Editions and Eyestorm, 2000

Never framed, hinged or matted
contained in original aluminum slipcase
packed in original cardboard white carton

Set includes Limited Edition Book:
Theaters, New York, 2000
Titled on spine
224 pages; 96 plates
12 x 11 inches
Includes essay by professor Hans Belting & statement by Sugimoto
Book is unumbered / unsigned
With publisher's shrink wrap in original aluminum box as and packed in original cardboard box with silver cover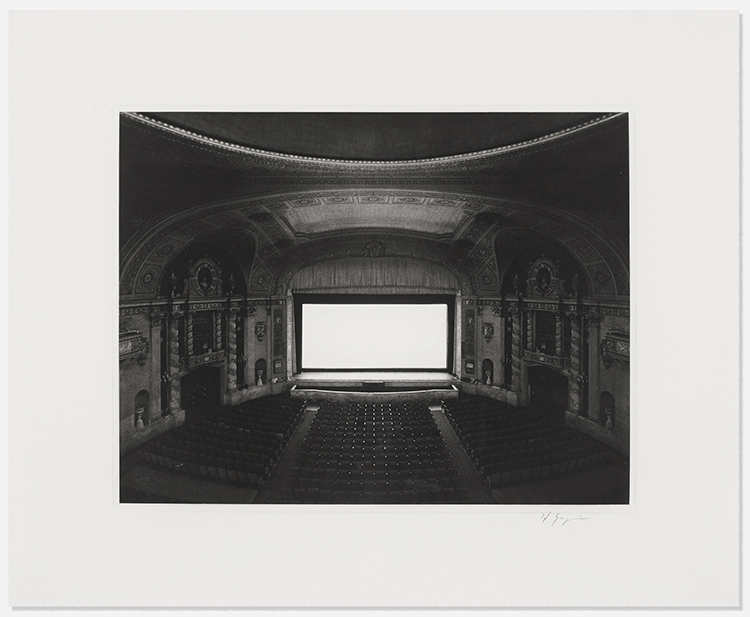 ---
Hiroshi Sugimoto: Theaters Set of 2
Sugimoto's U.A. Walker, New York, 1978 signed Limited Edition Photogravure is particularly effective due to the quality of the photogravure process, making it a superb value.
Works by Hiroshi Sugimoto continue to attract significant demand as evidenced by the strong high prices at public auction. Sugimoto's Limited Edition Silver Gelatin Photographs usually executed in Editions of 25 consistently realize $20,000-$30,000 at public auction; depending upon the specific impression.
This 1000 copy limited edition is housed in a brushed aluminum case and Includes Sugimoto's "U.A. Walker, New York, 1978' photogravure print. The prints are cased in a custom-made, piano hinged, brushed aluminum box. The photogravure was printed on acid-free BFA paper and is 21-1/2x17-1/2" in size. The book is not signed or numbered, only the print.
The Design and reproductions in the Limited Edition Theaters Book are exquisite. The Book features a selection of Hiroshi Sugimoto's 'Theater' Photographs, including both the "Movie Theaters" and "Drive-in Theater" Series. The Book presents the Artist's first-ever collection of Sugimoto's "Theater' Works". Includes an Exhibition History, bibliography, index, an essay by Professor Hans Belting and a statement by Hiroshi Sugimoto.
Beautifully composed images of the interiors of historic movie theaters and the surroundings of small town drive-ins, Sugimoto records the scene during the length of a movie shown at the same time of the exposure. The result is magical--the screen radiates white light, casting a subtly diffused glow over the entire surroundings. The production level on this project is undeniably superb. Reproductions are quadratone on 100lb Mohawk Superfine paper; each clothbound volume is slipcased.