---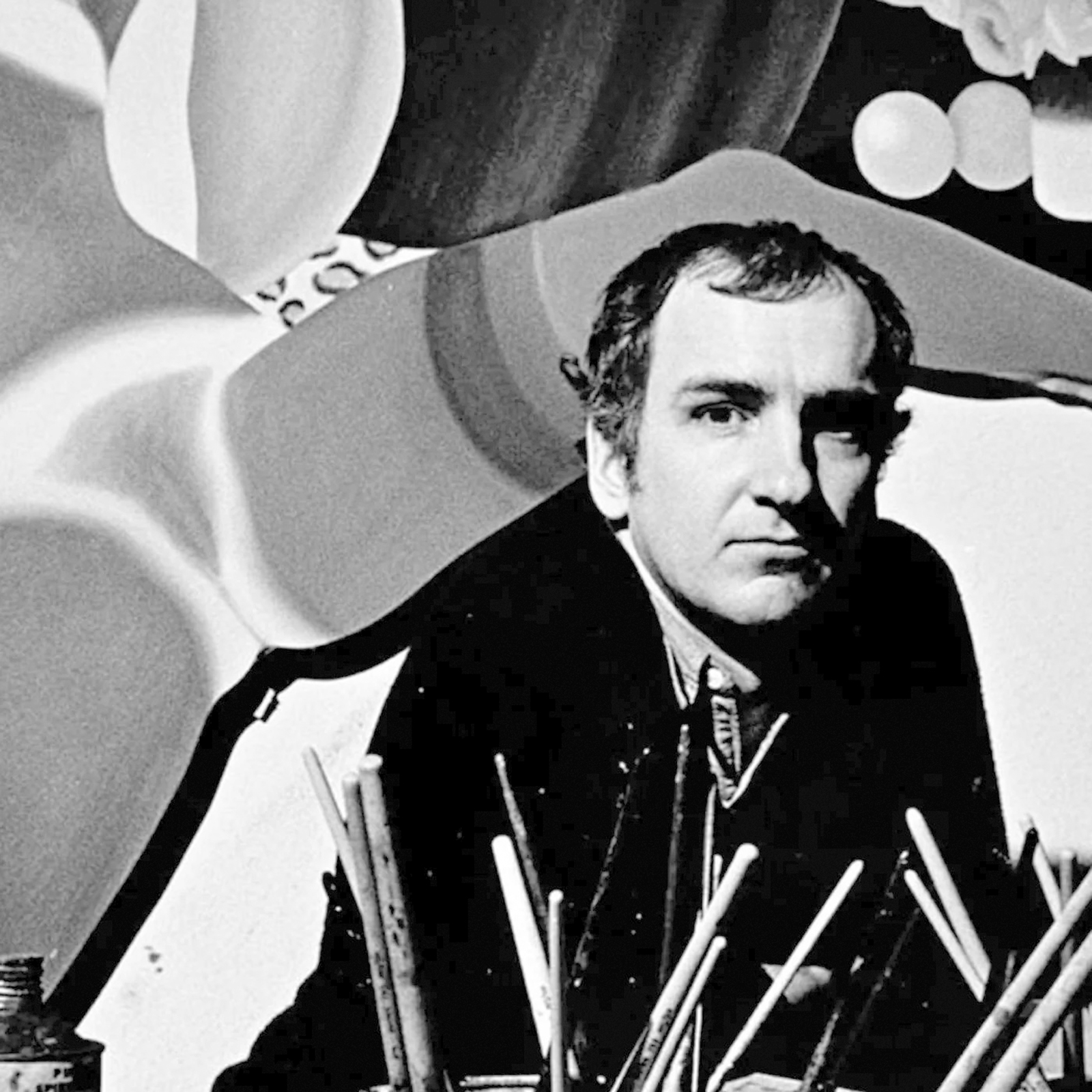 Tom Wesselmann drawing in his studio, circa 1968
Tom Wesselmann Great American Nudes
Tom Wesselmann's acclaimed series Great American Nudes epitomized American Pop art. Wesselmann's title embraces the era's fantastic public spirit, which spawned similar aspirational narratives in literature (The Great American Novel) and society at large (The American Dream).
As Tom Wesselmann himself described: "At first glance, my pictures seem well-behaved, as if - that is a still life, O.K. But these things have such crazy gives and takes that I feel they get really very wild" (T. Wesselmann, quoted in G.R. Swenson, "What Is Pop Art? Part II", from Art News, February 1964, reproduced in S.H. Madoff (ed.), Pop Art: A Critical History, Berkeley & London, 1997, pp. 112-17).
In downtown New York City in the 1960s, Tom Wesselmann, Andy Warhol and Roy Lichtenstein each independently began to incorporate imagery from newspapers and advertisements into their artworks in various ways. They brought to the surface Post-War American culture's shifting priorities, which would soon blossom into the 20th Century's most influential art movement: Pop. The Pop artists reinterpreted and collaged, sourcing material from the booming American economy's consumerism and prolific commercial industries. They recalled the actions of Dada, Futurism and Constructivism earlier in the century, who had aimed to bring a wider set of narratives into fine art, to merge the urgencies of art and life. American Pop joyfully engaged with reproducing the photographic image and other symbols taken from everyday life - in contradiction to the introspective intellectualism of their immediate predecessors, the Abstract Expressionists. The Pop artists redefined the scope and expectations of contemporary painting. Wesselmann studied with Willem de Kooning at Cooper Union in the 1950s, but grew convinced that the future was not in action painting. Thus, Wesselmann defined himself against his teacher, initially determined to become a cartoonist: "de Kooning gave me content and motivation" (Ibid, p. 114).
Wesselmann's Great American Nudes consciously reflect on the reclining female nude's art-historical importance, from Titian to Matisse - the latter of which had the most influence on Wesselmann's own fluid, supple forms. The model for the most Great American Nudes was Wesselmann's new girlfriend Claire Selley, who beauty and embodied his own sexual awakening. Selley posed with the forthrightness of Matisse's Odalisques, presenting an archetypical figure of feminine confidence and sexuality. Not at all coy, her posture commands desire. Wesselmann deliberately left the faces blank to avoid the suggestion of a portrait, the punchy outlines of disembodied lips and breasts forming the figure's only defined feature. Thus, as deeply personal as the content could have been, Wesselmann leaves the erotic potential open to subjective interpretation and, most significantly, the imagination. After all, Wesselmann executed his everyday Great American Nudes at a time when Hugh Hefner packaged sex as a luxury product in the pages of Playboy.