---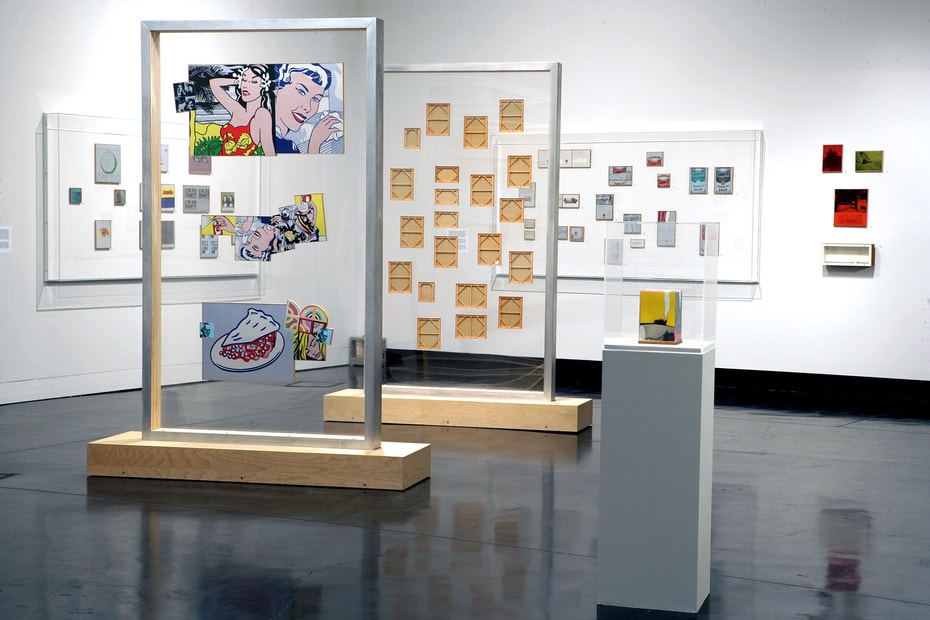 Installation view, Richard Pettibone: A Retrospective, Tang Teaching Museum, 2005
Richard Pettibone Pop Art Miniature Appropriations
During the early 1960's, Richard Pettibone began Appropriating paintings of important Pop Artists such as Andy Warhol, Frank Stella, Jasper Johns and Roy Lichtenstein.
It was at this time Richard Pettibone began creating his signature miniature constructions on tiny, handcrafted stretcher bars. By miniaturizing iconic works of Pop Art, Richard Pettibone created a new way of looking at well-known post war and contemporary art masterpieces.
During 2005-2006, the Richard Pettibone: A Retrospective Exhibition of approximately 200 paintings traveled to three museums, including the Tang Museum, Laguna Beach, California. The Richard Pettibone Retrospective presented a comprehensive exhibition of Pettibone's unique "art historical referencing" to a larger audience, many of whom had only been familiar with later appropriation artists such as Elaine Sturtevant, Vik Muniz, Richard Prince, Louise Lawler, Tom Friedman and Sherrie Levine.
In a review of the Richard Pettibone Retrospective Roberta Smith, co-chief art critic at The New York Times observed:
He has relentlessly produced exquisitely accurate pocket-size copies of modernist masterworks by artists from Duchamp and Brancusi to Lichtenstein and Warhol. In addition, he has seemed completely unperturbed by this apparent lack of originality. What has it gotten him? Certainly not the attention he deserves.
Our selection of Richard Pettibone paintings includes iconic miniature nasterpiece appropriations of famous Pop Art paintings by Andy Warhol, Roy Lichtenstein, Frank Stella and Jasper Johns.