---
The Seasons
(Spring, Summer, Fall, Winter)
(ULAE 238-241), 1987
Set of four etchings with aquatint in colors on Somerset paper
26 1/4 x 19 1/4 inches each
Edition of 73
Each signed & dated in pencil "J Johns '87" lower right
Each numbered in pencil lower right
Printed by John Lund, Hitoshi Kido, Craig Zammiello, Keith Brintzenhofe
Published by Universal Limited Art Editions, 1987, with their blindstamp
Literature
Richard Field, The Prints of Jasper Johns 1960-1993: A Catalogue Raisonne, ULAE, New York, 1994, Catalogue Reference ULAE 238-241, n.p.,
each reproduced in full-page color (other impressions of each reproduced).
Museum Collections
Walker Art Center, Minneapolis
Tate Modern, London
National Gallery, Washington, DC
Powers Art Center, Aspen, CO
Los Angeles County Museum of Art, Los Angeles
Museum of Modern Art, New York
Fisher Landau Center, New York
The Metropolitan Museum of Art, New York
Whitney Museum of American Art, New York
Sold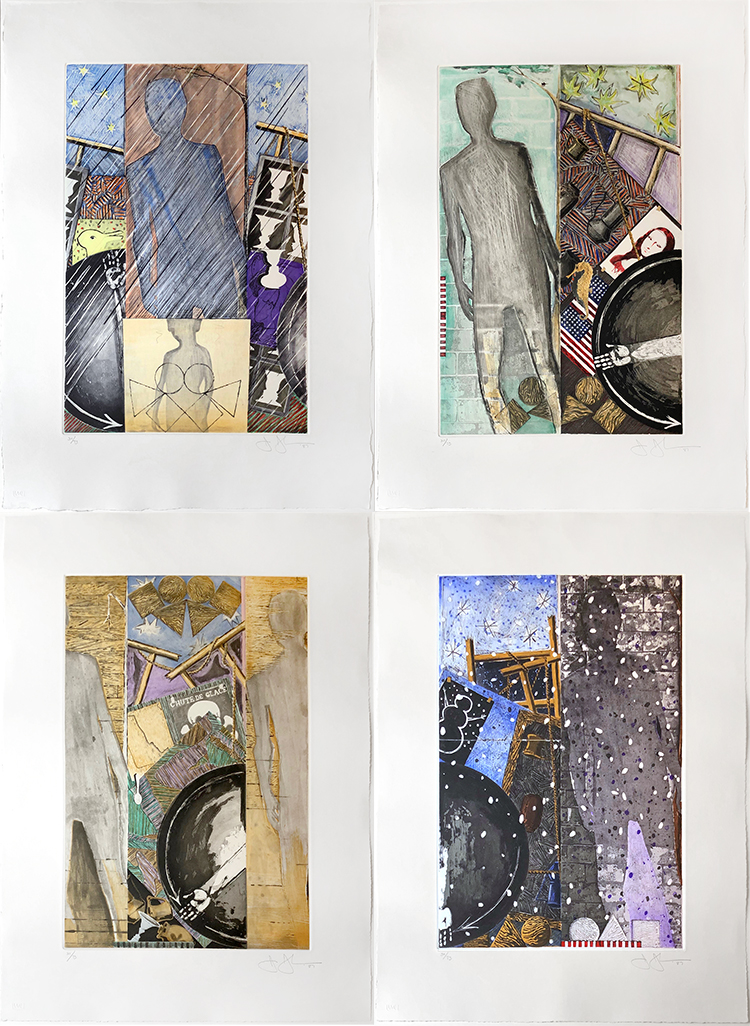 ---
Jasper Johns Seasons: An Autobiographical Reflection
Jasper Johns Seasons is an autobiographical reflection of the Artist's Life. Jasper Johns "assembled artifacts and seasonal symbols to narrate the stages of life and the periods of his career. Johns's "self-portrait" shadow, which recurs in all four of the paintings, was inspired by Picasso's painting The Shadow (1953). "
Specifically, the Jasper Johns Seasons includes key symbols and icons created by the Artist such as the American Flag, the Mona Lisa, George Ohr Pottery, as well as the Artist's homage to Pablo Picasso.
Jasper Johns, arguably the most important living Post War and Contemporary Artist, established an Auction record November 2014, when the Artist's Flag, fetched $36 million at Sotheby's, establishing an all time Auction world record for the Artist. A new Post-War and Contemporary Print record was also set when Jasper Johns Savarin Monotype (ULAE S36) fetched $1.3 million, from the Estate of Michael Crichton.
The Jasper Johns Seasons Set of Four etchings with aquatint that Joseph K. Levene Fine Art, Ltd. is offering for sale is exceptionally fresh and bright and in overall excellent condition. Each Jasper Johns Seasons - Spring, Summer, Fall, Winter, was created to stand alone, but is clearly more desirable as a complete Set of Four as originally intended by the Artist.
#JasperJohns Seasons Set of 4 Aquatints achieves $161K @Sothebys 11/1/13. http://t.co/rNmAezNjfr pic.twitter.com/kFBfJV79ba

— Jasper Johns Prints (@JohnsPrints) November 1, 2013