---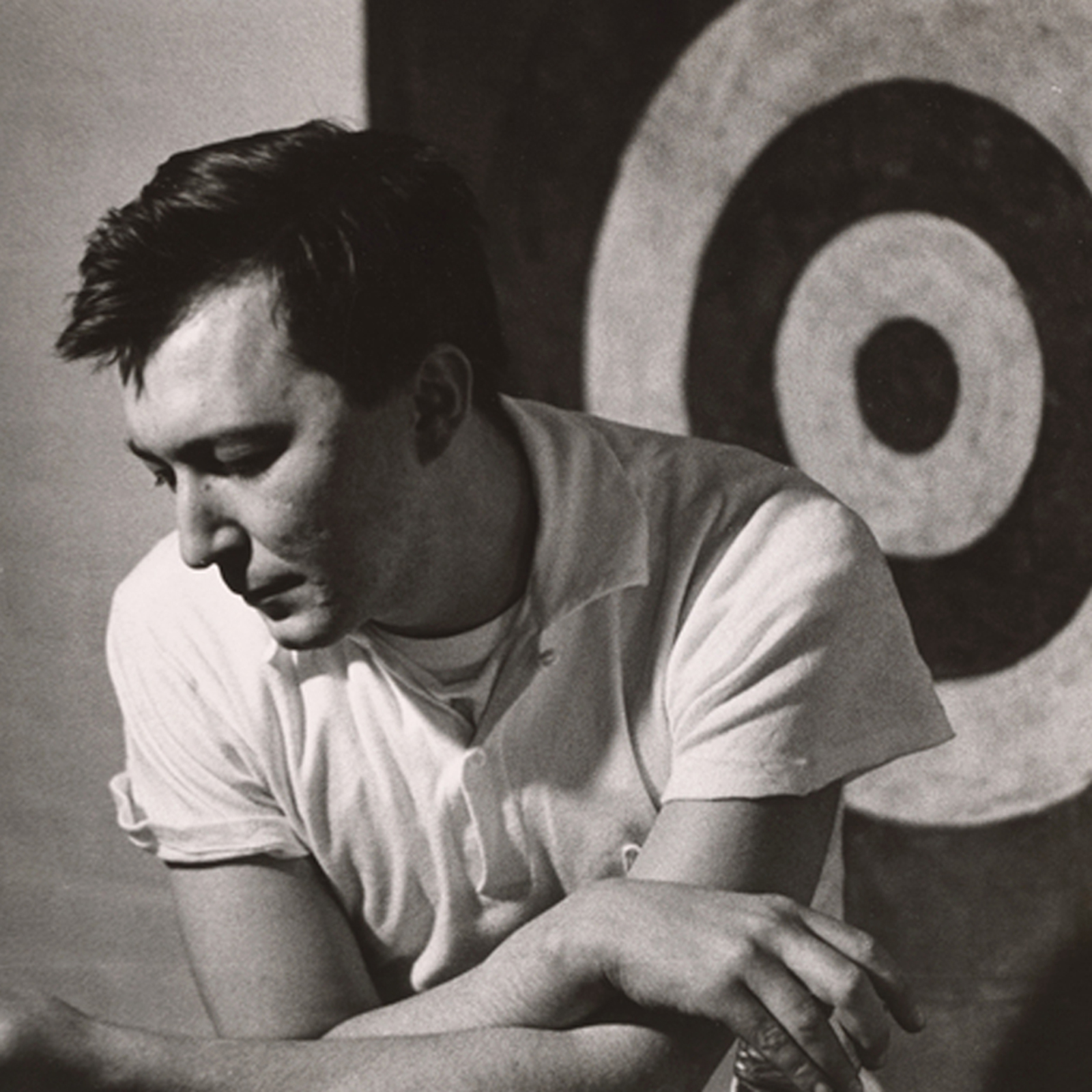 Jasper Johns with Target with Plaster Casts in his New York studio 1955, photographed by Walter Silver
Jasper Johns, arguably the most important living Post War and Contemporary artist
Jasper Johns, now 93, arguably the most important living post war and contemporary artist, continues to create compelling art, paintings, drawings, monotypes, limited edition prints and sculpture. Named an American Legend by The New York Times, Jasper Johns has been making headlines since the mid 1950's. According to The New Yorker "more words may have been written about Jasper Johns than about any other American artist who isn't Andy Warhol". Multi-volume catalogue raisonnes documenting Jasper Johns paintings & sculpture, over 800 drawings and monotypes were published in 2017 and 2018.
In 2021 Jasper Johns was celebrated with an unprecedented 7 decade retrospective collaboration from two major museums, The Whitney Museum of American Art and The Philadelphia Museum. Both museums collaborated to present Jasper Johns: Mind/Mirror, a simultaneous retrospective exhibition at The Whitney Museum of American Art and the Philadelphia Museum of Art; the largest retrospective ever mounted during Jasper Johns' seven decade career. This monumental and historical retrospective included 500 works of Jasper Johns Art, including paintings, limited edition prints, drawings and sculpture exhibited across both museums, many lent from the personal collection of Jasper Johns and shown publicly for the first time.
This joint Jasper Johns retrospective was the Artist's first major retrospective since The Museum of Modern Art hosted Jasper Johns: A Retrospective in 1997. Scott Rothkopf, deputy director and chief curator, The Whitney Museum of Amercian Art and co-curator of Jasper Johns: Mind/Mirrorsaid he could think of no similar example of a dual-institution, simultaneous exhibition in this country. Jointly organized by The Whitney Museum of American Art and the Philadelphia Museum of Art, Jasper Johns: Mind/Mirror closed at both museums February 13, 2022.
In 2020, Jasper Johns was also celebrated with two major museum print exhibitions, an exhibition of 100 Unique Prints created over ten days, Jasper Johns: 100 Variations On a Theme at The Museum of Fine Arts, Houston that was on view until 2/16/2020; and An Art of Changes: Jasper Johns Prints, 1960–2018, a four venue six decade printmaking retrospective of 90 Jasper Johns limited editon prints in intaglio, lithography, woodcut, linoleum cut, screenprinting and lead relief from the collection of the Walker Art Center that continued through 2021.
An Art of Changes: Jasper Johns Prints, 1960–2018 venues follow:
Carnegie Museum of Art, Pittsburgh: October 12, 2019–January 20, 2020
Walker Art Center, Minneapolis: February 16, 2020–January 3, 2021
Tampa Museum of Art, Florida: April 28, 2021–September 5, 2021
Grand Rapids Art Museum, Michigan: October 2, 2021–January 9, 2022
Parrish Art Museum, Water Mill, New York: May 1, 2022–July 31, 2022

In 2018, Jasper Johns had two major museum exhibitions; Jasper Johns: Something Resembling Truth, a six decade retrospective that originated at the Royal Academy and traveled to The Broad Museum and a drawing exhibition, The Condition of Being Here: Drawings by Jasper Johns, which was organized by the Menil Collection, 50 years of drawings Jasper Johns created from 1954-2016. In 2017, the Virginia Museum of Fine Art hosted Jasper Johns and Edvard Munch: Love, Loss, and the Cycle of Life.
These exhibitions follow the International acclaim Jasper Johns received for Jasper Johns Regrets, a 2014 exhibition organized by The Museum of Modern Art, a series of 20 paintings, watercolors, pastels and prints which traveled to the Österreichische Galerie Belvedere; Ann Tempkin, MoMA chief curator of painting and sculpture, stated Jasper Johns Regrets opens a window to Johns' creative process.
In 2014 Jasper Johns established an all time auction world record for the Artist when Jasper Johns Flag, fetched $36 million at Sotheby's NY. In 2018, a post-war and contemporary print auction world record was achieved when Jasper Johns Flags I (ULAE 128), "59/65" from the signed and numbered limited edition of 65 with 7 AP's, fetched $1.685 million.
For seven decades, Jasper Johns has been Internationally recognized for his iconic images of Targets, Maps, Flags, Numbers, Crosshatch and Alphabets, right after The Museum of Modern Art acquired Jasper Johns' breakthrough Flag, 1954-55 in 1958, a masterpiece Jasper Johns created by cutting a bedsheet using oil paint and encaustic, a method involving pigmented melted wax.
Renowned for his masterful paintings, Jasper Johns ranks among the world's greatest printmakers, often compared to Pablo Picasso, Leonardo da Vinci and Rembrandt. For Jasper Johns, printmaking encourages experimentation through the ease with which it allows him to pursue new directions. Jasper Johns innovative contributions to screenprints, etchings, linocuts and lithography have revolutionized the field of prints. Over seven decades Jasper Johns has created over 450 signed, numbered and dated limited print editions, plus scores of unique trial proofs, monotypes, hand colored proofs, etc. Given the seven and eight figure price tag of Jasper Johns works on canvas, Jasper Johns limited edition prints are still quite affordable, many still priced under six figures.
In 2007, The National Gallery of Art acquired 1,700 Jasper Johns Prints comprised of lithographs, etchings, relief prints and screenprints, including unique trial proofs and progressive proofs. The National Gallery of Art now boasts the largest, comprehensive repository of Jasper Johns Prints created by this legendary Artist over his extraordinary seven decade print career.
Significant collections of Jasper Johns Prints can be viewed in hundreds of prestigious museums around the world, including: The Museum of Modern Art, New York; National Gallery of Art, Washington, D.C.; Walker Art Center, Minneapolis; The Metropolitan Museum of Art, New York; Smithsonian American Art Museum Washington, D.C. and Art Institute of Chicago.
View broad selection museum quality Jasper Johns Prints available from Joseph K. Levene Fine Art, Ltd. including rare impressions of signed, numbered and dated Jasper Johns Prints including iconic works from the Artist's Series of Flags, Maps, Targets, Numbers, Savarin, Crosshatch and Seasons. These Jasper Johns Prints represent the Artist's best collaborations with important major print publishers, including Universal Limited Art Editions (U.L.A.E.), Simca, Petersburg Press, Inc., Low Road Studios and Gemini G.E.L.
VIEW SELECTION MUSEUM Quality JASPER JOHNS PRINTS AVAILABLE FROM Joseph K. Levene Fine Art, Ltd.